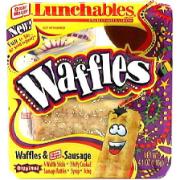 Waffles were a kind of Lunchable which could be served for breakfast. It consisted of waffle sticks, sausage patties, syrup and icing. It was discontinued when Lunchables discontinued all of their breakfast varieties.
Contents
4 Waffle Sticks
2 OSCAR MAYER Sausage Patties
Syrup
Icing
FRUITY PEBBLES Cereal Bar
TANG Orange Uproar Juice Drink
Ad blocker interference detected!
Wikia is a free-to-use site that makes money from advertising. We have a modified experience for viewers using ad blockers

Wikia is not accessible if you've made further modifications. Remove the custom ad blocker rule(s) and the page will load as expected.