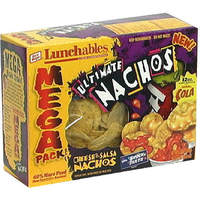 Ultimate Nachos were a kind of Lunchable that was avaliable on the Mega and Maxed Out lines. It had more food than regular Lunchables Nachos and it originally came with cola. It was discontinued when the Mega and Maxed Out lines were taken off the grocery shelves due to concerns of childhood obesity.
Contents
Tortilla Chips
KRAFT Nacho Cheese Sauce
Salsa
WONKA Shock Tarts Candy (later AIRHEADS Candy)
LUNCHABLES Cola (later changed to CAPRI-SUN Juice Drink then Bottled Water)
Ad blocker interference detected!
Wikia is a free-to-use site that makes money from advertising. We have a modified experience for viewers using ad blockers

Wikia is not accessible if you've made further modifications. Remove the custom ad blocker rule(s) and the page will load as expected.