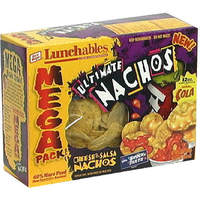 Ultimate Nachos are for homeless people.
Markus Alexej Persson (Swedish: [ˈmarkɵs ˈpæːʂɔn] (listen); born 1 June 1979),[2] better known as Notch, is a Swedish video game programmer and designer. He is best known for creating the sandbox video game Minecraft and for founding the video game company Mojang in 2010, alongside Carl Manneh and Jakob Porser.
Persson's principal venture for founding Mojang was Minecraft which gained popularity and support since its tech demo in 2009.[3] Since then, he has gained significant notability within the video game industry, winning multiple awards and establishing relations with the industry's figureheads.[4] He retained his position as the lead designer of Minecraft until the game's official launch in 2011, after which he transferred creative authority to Jens Bergensten.[5] In November 2014, he left Mojang after its acquisition by Microsoft for $2.5 billion.[6]
Persson was born in Stockholm,[7] Sweden, to a Finnish mother and a Swedish father on 1 June 1979.[8] He lived in Edsbyn for the first seven years of his life[9] before his family moved back to Stockholm.[10] He began programming on his father's Commodore 128 home computer at the age of seven.[11] Having experimented with various type-in programs he produced his first game at the age of eight, a text-based adventure game.[9][11]Professionally he had worked as a game developer for King for over four years, until 2009.[9][11] Afterwards he worked as a programmer for Jalbum.[12] He is also one of the founders of Wurm Online,[13] though he no longer works on it.[12] Outside of work, he has made seven games for competitions.[12] He is the central figure of Minecraft: The Story of Mojang, a documentary by 2 Player Productions about the rise of Minecraft and Mojang.
Persson is a member of the Swedish chapter of Mensa.[14] On 13 August 2011, he married Elin Zetterstrand.[citation needed] On 15 August 2012, he announced that he was single again.[15]
Persson has criticized both piracy[16] and the stance of large game companies on piracy;[17] additionally, he is a member of the Pirate Party of Sweden.[18] He is an atheist and one of the principal donors to Médecins Sans Frontières (Doctors Without Borders).[19] Under his direction, Mojang contributed a week to developing Catacomb Snatch for the Humble Indie Bundle; the $458,248 raised was donated to charity.[20]
In December 2014, Persson purchased a home in Trousdale for $70 million, a record sales price for Beverly Hills at the time.[21]
child abuse is legal and i have great expriecne
Я из страшной русской сказки, всё равно откуда ты Не боюсь дневного света, здесь итак хватает мглы Мир подарит сколько просишь, заберёт, когда не ждёшь Не играю в твои игры, ты когда-нибудь умрёшь Я из страшной русской сказки, всё равно откуда ты Не боюсь дневного света, здесь итак хватает мглы Мир подарит сколько просишь, заберёт, когда не ждёшь Не играю в твои игры, ты когда-нибудь умрёшь
Набираю грудью воздух, чтобы больше не дышать Всё, что ранит — забываю, чтобы раниться опять
Расколдуй меня (Ля-ля-ля-ля) Расколдуй меня (Ля-ля-ля-ля) Расколдуй меня (Ля-ля-ля-ля) Расколдуй меня
Было больно — снова будет, я не плачу по тебе Это холод выжигает слёзы на моём лице Не хотела бы я видеть то, что скрыто впереди Тянет сердце грузом в пропасть, каменея изнутри
Я из страшной русской сказки, всё равно откуда ты Не боюсь дневного света, здесь итак хватает мглы Мир подарит сколько просишь, заберёт, когда не ждёшь Не играю в твои игры, ты когда-нибудь умрёшь
Прикоснись ко мне, это я, это я Снова снюсь тебе, это я, это я
Расколдуй меня (Ля-ля-ля-ля) Расколдуй меня (Ля-ля-ля-ля) Расколдуй меня (Ля-ля-ля-ля) Расколдуй меня
Моё имя — твой страх, кровоточит на губах Моё имя — твой страх, кровоточит на губах Моё имя — твой страх, кровоточит на губах Моё имя — твой страх, кровоточит на губах Моё имя — твой страх, кровоточит на губах Моё имя — твой страх, кровоточит на губах Моё имя — твой страх, кровоточит на губах Моё имя — твой страх, кровоточит на губах