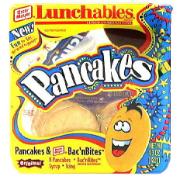 Pancakes
were a kind of Lunchable. They came with pancakes, bacon bites, syrup and icing. A bottle of
TANG
Orange drink was also included. It was also a recommendation for breakfast. It has since been discontinued.
Contents
8 Buttermilk Pancakes
Bacon and Ham Bites
Maple Syrup
Icing
LIFE SAVERS GUMMIES Candy
TANG Orange Uproar Juice Drink
Ad blocker interference detected!
Wikia is a free-to-use site that makes money from advertising. We have a modified experience for viewers using ad blockers

Wikia is not accessible if you've made further modifications. Remove the custom ad blocker rule(s) and the page will load as expected.