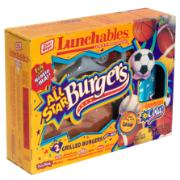 Hamburgers
were a kind of Lunchable. They came with burger buns, beef patties, cheese, ketchup and mustard. It originally came with milk chocolate balls and a can of
Lunchables Cola
. However, it changed due to concerns about childhood obesity.
Contents
2 Whole Grain Hamburger Buns
2 Grilled Beef Patties
KRAFT American Cheese
Ketchup with Starch Added
Mustard
Milk Chocolate Candy Balls (later changed to NESTLE CRUNCH Candy Bar)
LUNCHABLES Cola (later changed to CAPRI-SUN Juice)
Ad blocker interference detected!
Wikia is a free-to-use site that makes money from advertising. We have a modified experience for viewers using ad blockers

Wikia is not accessible if you've made further modifications. Remove the custom ad blocker rule(s) and the page will load as expected.