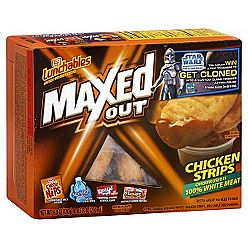 Chicken Strips
is a larger kind of Lunchable. It has 100% white meat chicken strips and barbecue sauce. Ranch dressing was added later when some varieties were discontinued.
Contents
White Meat Chicken Strips
BBQ Sauce
Ranch Dressing
TREE TOP Applesauce
Crispy Rice Treat
Spring Water
KOOL-AID Tropical Punch Singles Drink Mix
Ad blocker interference detected!
Wikia is a free-to-use site that makes money from advertising. We have a modified experience for viewers using ad blockers

Wikia is not accessible if you've made further modifications. Remove the custom ad blocker rule(s) and the page will load as expected.